Now you know about gel nails. You have probably gotten a gel nail manicure and learned just exactly how amazing they are and how long-lasting they are. You are probably wondering what to do next. Now that you have those fantastic gel nails you need some inspiration to take them to the next level—something that will help you personalize them and express yourself.
Because gel nails form the acrylic polymer directly on your nails, the flawless finish that results makes an ideal canvass for almost anything you want to do with your manicure. Far more than traditional acrylics, and miles ahead of traditional nail polish, gel nails can be stenciled and adorned on such a variety of ways that they are nearly limitless.
Use the versatility of gel nails to your advantage. You can use your gel nail manicure as a medium to express yourself in ways a traditional manicure cannot. The only thing that limits you is your imagination. We put together a list to get you inspired for your nest gel nail manicure.
Here are 30 gel nail ideas to get inspired. We did the research and found the most stellar possibilities for gel nails.
Modern Art
Put a little Picasso on your nails by mixing primary colors. Mix bright yellow and cobalt blue, for example, for a starry night on your nails. This is done with foils and films that create the swirls and geometric patterns associated with many of the most famous modern artists. From Le Corbusier to Jackson Pollack, these modern art gel nail designs have to be seen to be believed.
Neon
Mix the basic shine with a bright neon tip for something brilliant and stylish. Some of these neon designs can be given a marble effect to make them even more singular. One thing is for sure, neon announces its presence and draws attention to your manicure.
Jewel Confetti
Have jewel confetti embedded in the gel nails. This makes a tiara on your fingertips. Ranging from tiny particles of jewels to elaborate foils, jewel confetti can be manipulated by a good stylist in seemingly infinite ways.
Personalized designs
Paint images and shapes on the gel nails. Something whimsical like fruits or flower petals. There are full dried flower art design packages available for gel nails like this. Using a simple glossy base, apply dried flowers or abstract flower designs to the gel nails.
Go classic
A classic French Manicure in the gel nail is stunning. It may seem obvious, but the classic French Manicure comes through in more brilliant and stunning detail with gel manicures. The understatement and classic look can be more striking than ever.
Go Loud
Bright reds and hot pinks, or a layer of the two, making for a show-stopper. Nothing beats loud and bright when you want to make a brash impression. Don't be afraid of the bright pinks and reds when it comes to gel nails. These colors have never looked better with gel nail technology. Remember, gel nails will keep these fiery colors looking strong far longer than traditional polish.
Use flag designs in the gel nail manicure
You can show your personal colors with flag stencils on your gel nails. Wear the stars and stripes or show of your ancestry. Don't limit yourself to national flags. Go for the striking stripes of a finish line flag or a sports team.
Watercolor effect
One of the advantages of gel nails is you can apply artful effects on top of the base coat. Use swirls of pastel colors to create beautiful watercolors.
Faint blues for a sky background
Using the darker base colors brings the light of the stars out like real stars against a purplish night sky. From astrology to astronomy, stars make a statement.
Foil details
Your stylist can inlay foil designs in the gel nail finish. This makes for a stylish one-of-a-kind look. Foil designs are available at almost any salon, and they are extremely versatile. From antique prints to modern art abstracts, foils offer infinite possibilities.
Flowers for a 3D effect
It will look like a flower sculpture in your manicure. These also offer endless possibilities. Some of the flower designs look like real flowers pressed on your nails. If you want something more abstract, or even something that harkens back to childhood, flowers are always a source of inspiration on gel nails.
Animal prints
Zebra stripes, tiger stripes, even cow spots all make for eye-catching images in gel nails. Animal prints offer some wildness amid the perfection of gel nails.
Stars and flames
Take the star idea further with bold bright bursts of colorful stars. Turn your nails into bright colorful suns. Star and flame prints can range from true celestial images to the flames you associate with an old hot rod. Use these to express who you are. If you are aligned with stars, put something from the zodiac on your gel nails.
Manicures that resemble jellies
Yes, you can get gel nail manicures that resemble jellies. Opaque colorful finishes that look like beachwear. This will take you back to the jellies you wore as a child. Gel nails can be finished to resemble the same opaque colorful shades we wore in the summers of childhood.
Soft pastel colors and shades
Soft pastel colors and shades are ideal for gel nails. This is an elegant understatement. Of course, pastels are always elegant. The soft hues, whether in bright pinks and reds or subdued blues, create artful shades on gel nails.
Glam Matte Gels
Start with a matte gel base. Add ombre accents or jeweled glitter. This creates a dynamic effect. The fading effect of the ombre is what gives this style its signature look. Something like an old shadow plaid comes through with the matte base and glittery accents.
Coffin nails
If you tend toward the Goth side of fashion, dark purples and even shades drifting into black provide striking effects with gel nails. These gel nails are the ultimate goth style and design. Go for the dark purples for the true coffin shades.
Matte gels with designs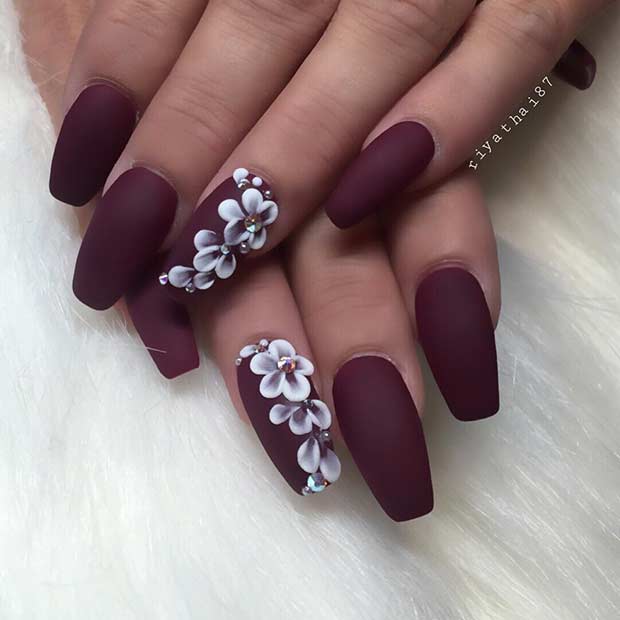 Matte gel nails make an ideal palette for imaginative designs. Try swirls with glittery inlays for maximum style. Again, it is the contrast of matte gel nails that make the glitter and swirl stand out. More than just the glitter you know form acrylics, gel nails make the designs come alive.
Black and pink glitter ombre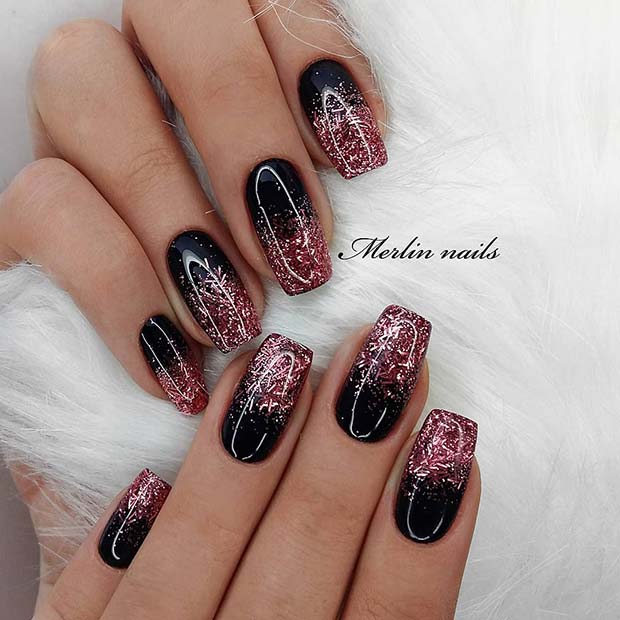 The fade from black to gray in the matte base lets the glitter shine above. These are definitely inspired by the night. The extreme black is contrasted with the girlie soft pink. Here again, the near-perfection of gel nails makes this design possible.
Rhinestone designs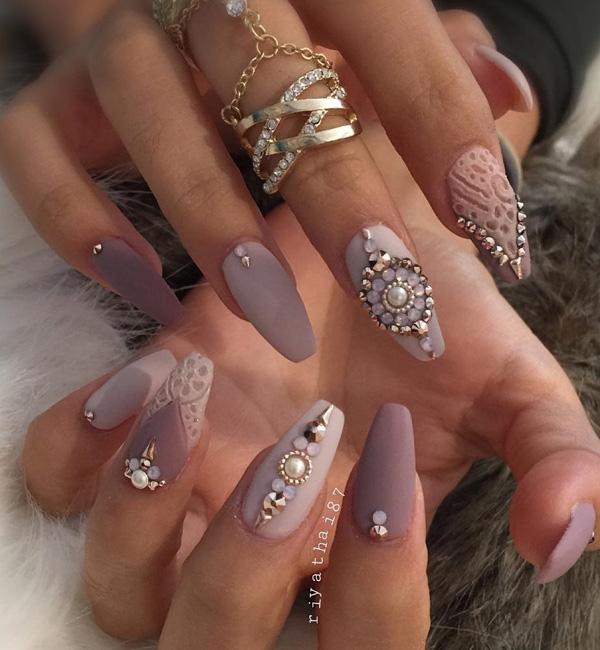 Gel nails can shimmer like a rhinestone fashion accessory with rhinestone sculptures in the gel base. Whether you choose to go simple with a few strategic placed rhinestones or go full glam with a dusting, rhinestone gel nail patterns will definitely get attention. With a little imagination, you can do almost anything with the simple addition of rhinestones.
Trendy patterns
Following the modern art motif, abstract patterns in varying colors will make your gel nails the center of attention. The best salons will be able to offer abstract patterns and designs onto your gel nails. Abstract and trendy patterns allow you to individualize your gel nails to your own personal aesthetic.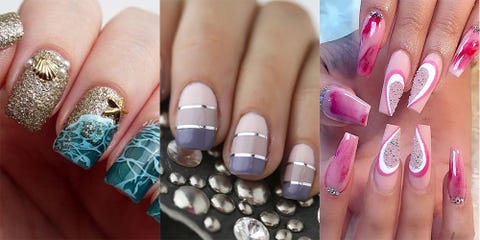 Blood orange
Not a color readily available in traditional nail polish, blood orange mixes the dark hues into the bright orange for a singular effect. Gel nail manicures make color options available that were simply not possible with traditional nail polishes. Blood orange is one, and it makes a bold yet simple statement. More than just a Summery orange, blood orange provides deep color.
Futuristic with a metallic finish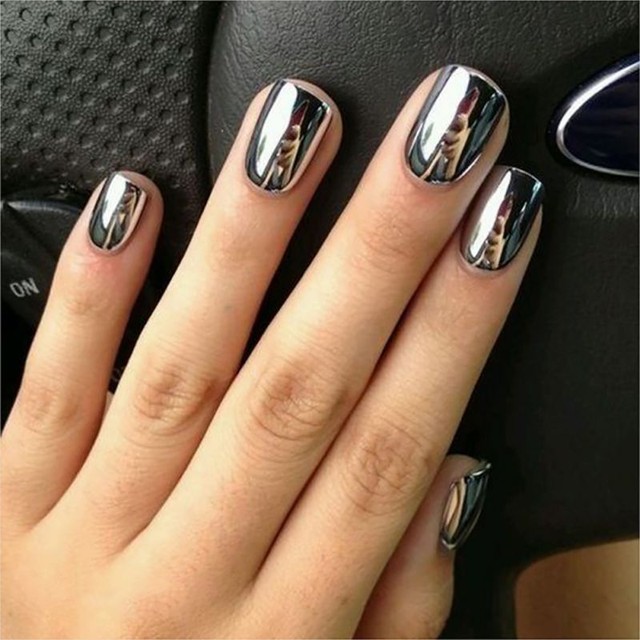 Go futuristic with metallic finished gel nails. These can come in matte finishes or glossy finishes. This is another look that can only be perfected with a gel nail manicure. There metallic sheens and colors take on a singular effect with the flawlessness of gel nails.
Lace designs
Against a red matte nail, black lace nail art stands out and is intricate as it is stylish. Lace stencils become works of art on a gel nail base. Because the gel manicure is so smooth and near-perfect, the lace designs can be laid onto the nails with precision. Lace patterns provide a touch of old-time class within the thoroughly modern look of gel nails.
Make them look like small stilettos
Working the gel nail to a precise point makes them look like small stilettos. Use dark purples and reds for maximum effect. Not for everyone, but these extreme stiletto nails are one of a kind with gel nail effects. Futuristic and intimidating, they are also elegant and stylish.
Tribal art
There are numerous choices with tribal art on white or other light gel bases. These really stand out. Among the artful patterns that can inspire you with gel nails, tribal patterns are truly unique. Because there are so many to work with, you can let your imagination run wild with these tribal designs.
Holographic gel nails
Mixing reflective solids in with the gel nail polish creates a holographic shimmer. Holographic effects were made for gel nail manicures. The polymer base will assimilate the reflective particles and create effects that appear to move in your nail polish.
Butterfly designs
The same swirls and color mixes that go into watercolor designs can be manipulated to resemble butterfly wings. These are simply fun. A talented nail technician can apply butterfly stencils on top of or within watercolor designs. Your nails will look like museum-quality art.
Brilliant metallics
Using microfilaments that are used in holographic nails, the lines are elongated to produce shiny and brilliant metallic effects. Set these against an ivory background on your base. This is another direction of holographic effects. The metallics shimmer and shine, creating futuristic designs that move.
Racing stripes
Sleek base coats of ivory or white give luster to pointed stripes that terminate at the tip of the nail This look is bold and made for nightlife. Finally, what tells the world you are a woman on the go more than racing stripes. Imagine the simple flat colors of traditional race cars applied to a flawless gel nail manicure.
Because gel nails are hardened into a polymer directly on your nails, the possibilities you can create on them are really limited only by your own imagination. Stencils, layering of color, adding gems and rhinestone, experimenting with colors and shines—you can do almost anything with gel nails.
What is more, these imaginative sources of inspiration will last. You need not worry about expending the time (and the money) on an elaborate gel nail design only to have it peel and chip within a few days like traditional nail polish. Gel nails will hold these magnificent finishes and designs for weeks.
Take this guide as a starting point. Why stop with these ideas. This guide is meant to inspire, not be an exhaustive list. Gel nails can be adorned in infinite ways, and the only limit is your imagination. Mix and match the ideas above to come up with your own.